Darien, Denisha, Travel & Fun|
13th October 2007


(credit & details here)
The kids went to Aquaria with their cousins. This is their 2nd visit so far. Nothing spectacular this time round. Apart from touching fishes, there are nothing really special compared to the last time. The adults didn't really enjoy much but mostly importantly the kids enjoyed themselves.
When we were about to leave at around 5pm, it started to rain …. aw!! shucks. So we decided to do a little shopping at KLCC. Bought some books at Kinokuniya and went for dinner at Sushi King. After dinner, it was already 9 plus. When we were about to get into the car, Princess told us that she was hungry. So, we all stopped by at Kiwi Express, Puchong for a supper with my sis and kids again. We left for home at 1am!! Crazy night!
Princess touching a crayfish

Taken at the exit

Boy enjoying his ice-cream

14th October 2007


(credits & details here)
We met up with some uni friends in McDonalds SS15 for lunch. The kids played with one of our uni-mates daughter. She shares the same birthday with Boy but a year younger than him. Coincidence huh! We left in the place around evening. Another day without nap for the kids. They seemed ok. No temper tantrums. They were playing like crazy …. not wanting to leave. What is it with McDonalds that the kids like so much???? *Puzzled*
The kids with their new found friend, Hayley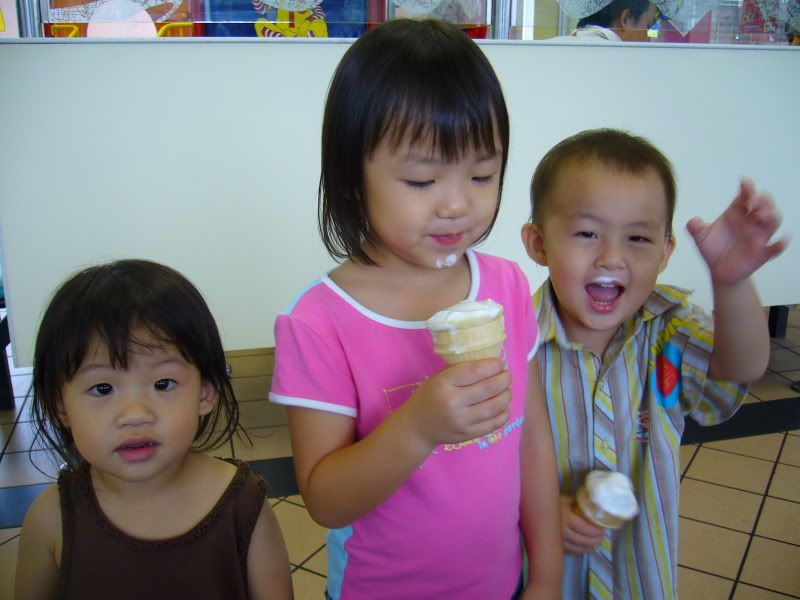 6 Responses to "eventful weekend"
Leave a Reply
You must be logged in to post a comment.